July 6
th
, 2014
I'm a regular listener of
Penn's Sunday School
, an excellent podcast by Penn Jillette of Penn & Teller fame. For a while he's been talking about a documentary film they've created called Tim's Vermeer. I got to see it a few weeks back.
It's a film about inventor Tim Jenison, and his 5 year obsession to paint a perfect replica of Vermeer's painting, The Music Lesson. Tim invents a technique/device he created, and shows how Vermeer probably used something rather similar. It's a great film, I suggest you watch it for yourself. In one scene, Tim comments casually that anyone could use his technique...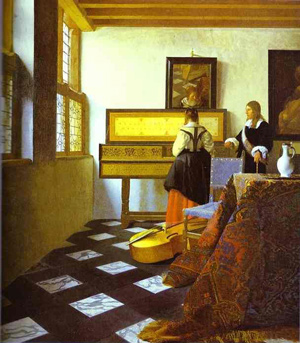 So I thought I'd give it a go. Now, I'm no painter. I can't sketch. I can't make anything look lifelike with any kind of image creation tools! I've never even touched oil paint before.
I wasn't expecting very good results, but I nipped to the shops and bought a couple of cheap canvasses, a tube of black and white oil paint, a cheap pack of brushes and a cheap compact makeup mirror. I cut and bent some wire into a crude stand and blu-tack'd the mirror to it. I printed out a B&W photo of my father to use as the original, and selotaped it to an old cardboard cat food box. I wasn't trying very hard to make the perfect setup.
I spent an evening setting this up and painting my first attempt. It just looked like a mess. Utterly discouraging to work on, and at the end of the night I just had a smudgy mess of nothing that didn't even match the original in image proportion, let alone look like a person.
The next morning I happened to catch sight of the painting I'd made from across the room. At an extreme angle, suddenly my brain recognised the face of my father. It was hard to see, but it was definitely there. I realised that there's a part of the technique the film doesn't mention - you have to move the mirror. I'd been keeping it as still as possible, assuming that touching it would ruin the painting. That's not the case though. You have to raise/lower it to scan different parts of the source image. What I'd done was squash it dramatically in the Y axis, so it was only about one quarter the height of the original.
The next night I had another go, painting directly over the squished version. I blocked in the frame of the picture first, then filled in reference points like eyes, nose, mouth. Then over the next 5 hours or so applied Tim's technique slowly and carefully. I learned how to change the shade of paint at any one point by adding black/white and mixing it right there on the canvas, or by mixing it first and applying it. I learned how to do detail with a fine brush, manipulating the paint by pushing it around rather than painting anew.
The results astonished me. Now, this is not a patch on what Tim achieved in any of his paintings, but does the technique work? Can any talentless fool with patience do it? Yup!
There are flaws. I got tired and impatient at the shirt, so didn't really follow the technique there and just freehanded it behind the mirror. The head shape isn't quite right and the placement of each feature is a little shifted. I think I'm still introducing a bit of skew overall by not moving my mirror often enough, and not looking straight enough into the setup. The painting isn't central in the canvas, and it is mirrored left-to-right (something I didn't notice until I'd finished).
The technique isn't perfect, or easy. It's not hard to follow, but it is back-breaking leaning over the apparatus while controlling a brush, and it's hard on the eyes. I had to shut one eye most of the time, and it's still difficult. It takes a lot of time and patience overall too, and shows soul-destroyingly little progress until you're a long way into it. Controlling the parallax skew is the hardest part for me so far, although with better thought-out equipment I'm sure I could get round that bit. I have a suspicion a much smaller mirror and an easily adjustable stand might help, as I'd be happier to move it more often.