Bending the Light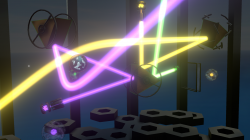 Don your Oculus Rift headset and grab your Touch controllers for this mind-bending puzzle game. Manipulate beautiful beams of energy with all manner of tools to try and charge up the targets. Includes 40 levels, each with its own secrets to discover.
Play on Oculus Home
– 40 levels, each with secrets and collectables
– Designed for Oculus Touch
– Playable with gamepad
– Even playable with just a keyboard
– Abstract, dreamy, beautiful and atmospheric
– Meta-puzzles for those who solve everything else
– Low pressure, relaxing gameplay, but not simple!
– Can you achieve 100% completion?