Saturday, September 16th, 2017
Push the limits of performance in the desolate beauty of Baja, Mexico, and find out what it takes to dominate the desert.
Pennzoil Jeep Baja is high octane VR experience developed from the ground up to showcase the unique performance of the Jeep Trailcat and Pennzoil Platinum.
I worked with the fantastic team at Shadow Industries on this wonderful project that included integration with a physical simulator. It was a beast of a machine, simulating the beastly 707bhp Trailcat. The goal was to make the player feel like they were wrestling with a tiger!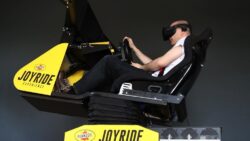 Unfortunately, unless you catch the exhibit at an event, you can't play it. The best I can do is show you a 3 minute trailer made for the website.