Sunday, December 5th, 2010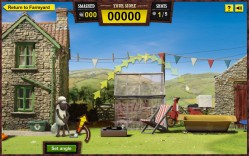 Championsheeps is a new suite of five children's games, produced by Aardman Digital for the BBC. I worked on coding the Baahmy Golf game within the suite. The graphics and concept were all worked out when I got to this one. I just had to make everything work!
In Baahmy Golf, it's Shaun's job to break as many things as he can with just five shots. Almost all of the items visible are interactive in some way, so smash away and enjoy the show! Don't forget to use your unconventional flippers (lids, a toilet seat, even a duck) to keep the ball in motion.