W.A.V.E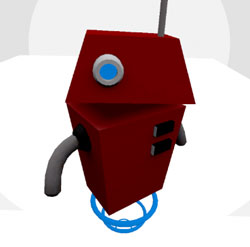 W.A.V.E robots are sent out to explore strange new lands, far from home. When they arrive, they connect via virtual reality to a human helper. You are that human!
First person VR is amazing, but it's not the only thing you can do with a Rift. This game explores a 3rd person platformer using the touch controller for movement and aiming.
– Designed for (mostly) seated play.
– Requires an Oculus Rift with a single Touch controller.
– Adapts for left or right handers.

(Press the A or X button to choose in-game)

– Graphics mostly created in virtual reality, using SculptrVR.
Built for the Global Games Jame 2017, mostly just by me, in under 48 hours. The main robot and enemy models are by the amazing Aaron Hicks.
If you have the hardware, download to play for free!
You can see the original GGJ entry here.