Shell Helix AR Engine Statue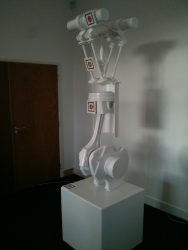 This giant cutaway model of an engine's crankshaft, piston and valvetrain stands well over two metres tall and has augmented reality markers all over it. They work with a custom app on four iPads to create an interactive exhibition piece showing off Shell's premium engine oil benefits.
I built the app, which had to be ultra simple to use, immersive and interactive. It had to take into consideration auto-resetting if abandoned, keeping the user interested and involved, but still moving them forward constantly so nobody could hog the iPads forever.
This app was built with the excellent team at Shadow Industries.