Isabel Bookbinder Outfit Designer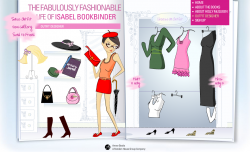 Use your mouse to design Isabel Bookbinder a fashionable outfit. You can save it into a gallery for all to see too. Click "outfit designer" to get started.
Dressup toys aren't the most exciting of things for developers to build. It's basically a drag+drop mechanism, and a bunch of graphics. That's normally it. In this case however, I decided to add a little sparkle to the way things moved on screen by integrating my AS2 physics engine into the clothing. When you scroll the wardrobe, the items all dangle and sway in a satisfying manner. Hangers without clothing will rock about considerably more, and items will dangle from the mouse rather than just sticking firmly. It all adds a level of tactility that isn't present in most dressup games.