Wallace & Gromit: Invention Suspension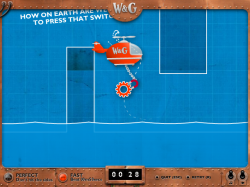 A spiritual sucessor to Hanna in a Choppa, Wallace and Gromit: Invention Suspension sees you helping Gromit to pilot a remote-control chopper to collect parts for their new invention.
Everything about this game is improved over Hanna in a Choppa. The helicopter is better controlled, more stable and stronger. There is even a choice of three differently performing choppers. The graphics are beautiful, the sounds are spot on and the level design continues the trend of making things new and different per level, not harder. There are more achievements to get, and there's even a highscore table that you can submit your total time to. If you can get within a minute of my 6min 26seconds total, you're doing really very well. If you liked Hanna in a Choppa, prepare to love this!