Home Sheep Home 2: A Little Epic
Help Shaun, Shirley and Timmy find their way home in this super-cute BAFTA-nominated physics puzzle platformer.
Play the London episode on the web, free
Play the Underground episode on the web, free
Visit the official site to buy the game for your PC or iPhone/iPad
After the success of the original Home Sheep Home, Aardman asked me to work on a sequel with the ultra-talented artist/animator, Robin Davey (who did all the art/animation for the first game too). The original game was a pure Flash web game, hastily built just to raise brand awareness for the Shaun the Sheep show. The new game was to be a multi-platform paid download game, as well as a free-to-play web game. We had our work cut out for us!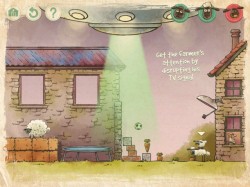 So, what could both work as a free web game, and as a paid download? Why would anyone pay to play something they can play for free? Well, we came up with a few reasons:
Super high resolution graphics, running super-smooth in full screen
Lots more content – more episodes, bonus levels, more to collect
Developer's commentary
Exclusive fun/silly cheat modes
Runs on your iPhone/iPad
Robin and I scratched our heads, scribbled lots of notes, drank lots of tea and ate lots of biscuits until we had a rough plan of the game. Then came months of hard work building it all. Top-designer Gavin Strange worked on the lovely interface screens. Tech genius Richard Davey orchestrated a textbook perfect technology-intercept with AIR3 for the desktop version, and lots of other people at Aardman were involved (check the in-game credits for the full list).
Alongside our own development we also worked closely with the amazing Mobile Pie to help them create the iOS version of the game. Mobile Pie's star developer Matt Arahna and the rest of the team did a truly spectacular job of bringing the experience to the iPhone and iPad. They slaved for months ensuring the mobile version played just like the desktop and web versions, including every frame of the rich animation, beautiful layered backgrounds, physics, controls and more.
It's been a long journey, and one of the most complicated projects I've ever been involved with! The multi-platform end product was well worth all the hard work though, and although the game has only been out for a couple of days as I write, it has already had hundreds of thousands of plays. Initial feedback from players seems very positive too! That's the bit that really matters in the end – bringing a beautiful and fun experience to people who love games.