Wednesday, May 20th, 2009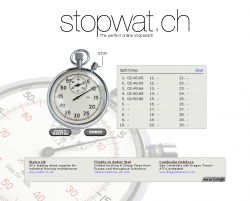 Another experiment in advertising. This handy single-serving URL is so easy to remember that we're hoping lots of people return to it whenever they need an online stopwatch. It's easy to use, contains just the features you need and looks fab. Spread it far and wide, please!
In fact, feel free to embed the stopwatch on your own website – the embed code is right there in the stopwatch widget.